About us
We study biological functions of secondary metabolites of plant and fungi. The topics studied in the last years include fungal defense against predators (Xu et al. 2019), soil microbiome and plant health in agroforestry (Beule et al., 2019a and 2019b), exudates of plant root and hairy roots (Kareem et al. 2019), metabolic transformations of mycotoxins (Borzekowski et al. 2019) and applied issues in research on mycotoxins (Ezekiel et al. 2019; Balendres et al. 2019). Our tools are gene expression analysis (RNAseq and RT qPCR), gene disruption in fungi, DNA-based analysis of microbial communities (DGGE and amplicon sequencing by NGS), chemical analyses, bioassays, and nontargeted metabolic profiling.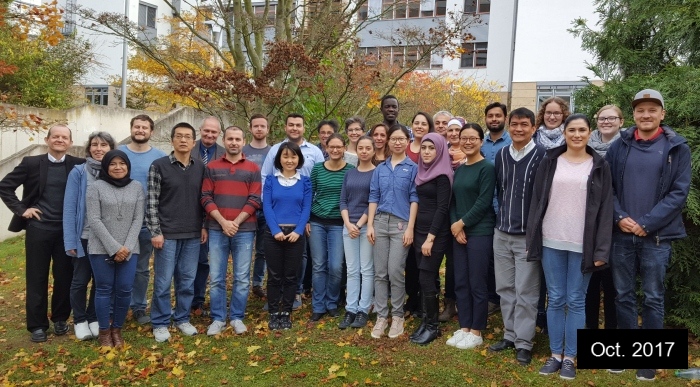 Recent publications
Award for best poster at Biodiversity Symposium for Lukas!
Alisaac E, Behmann J, Rathgeb A, Karlovsky P, Dehne HW, Mahlein AK: Aassessment of Fusarium infection and mycotoxin contamination of wheat kernels and flour using hyperspectral imaging. Toxins (2019) 11:556. OPEN ACCESS
Gaffar FY, Imani J, Karlovsky P, Koch A, Kogel KH: Different components of the RNA interference machinery are required for conidiation, ascosporogenesis, virulence, deoxynivalenol production, and fungal inhibition by exogenous double-stranded RNA in the head blight pathogen Fusarium graminearum. Front. Microbiol. (2019) 10:1662. OPEN ACCESS
Xu Y, Vinas M, Alsarrag A, Su L, Pfohl K, Rohlfs M, Schäfer W, Chen W, Karlovsky P: Bis-naphthopyrone pigments protect filamentous ascomycetes from a wide range of predators. Nature Communications (2019) 10:3579. OPEN ACCESS
COMMENTS:
Kareem ZJ, Su L, Rathgeb A, Sirrenberg A, Hadacek F, Rashid AHAH, Karlovsky P: Small-scale bioreactor for sterile hydroponics and hairy roots: metabolic diversity and salicylic acid exudation by hairy roots of Hyoscyamus niger. Applied Sciences (2019) 9:3044.OPEN ACCESS
Borzekowski A, Anggriawan R, Auliyati M, Kunte H-J, Koch M, Rohn S, Karlovsky P, Maul R: Formation of zearalenone metabolites in tempeh fermentation. Molecules (2019) 24:2697.OPEN ACCESS
Beule L, Corre MD, Schmidt M, Göbel L, Veldkamp E, Karlovsky P: Conversion of monoculture cropland and open grassland to agroforestry alters the abundance of soil bacteria, fungi and soil-N-cycling genes. PLoS ONE (2019) 14:e0218779.OPEN ACCESS
Ezekiel CN, Ortega-Beltran A, Oyedeji EO, Atehnkeng J, Kössler P, Tairu F, Hoeschle-Zeledon I, Karlovsky P, Cotty PJ, Bandyopadhyay R: Aflatoxin in chili peppers in Nigeria: extent of contamination and control using atoxigenic Aspergillus flavus genotypes as biocontrol agents. Toxins (2019) 11:429.OPEN ACCESS
Balendres MAO, Karlovsky P, Cumagun CJR: Mycotoxigenic fungi and mycotoxins in agricultural crop commodities in the Philippines: a review. Foods (2019) 8:249.OPEN ACCESS
Beule L, Lehtsaar E, Rathgeb A, Karlovsky P: Crop diseases and mycotoxin accumulation in temperate agroforestry systems. Sustainability (2019) 11:2925. OPEN ACCESS
Grüning MM, Beule L, Meyer S., Karlovsky P, I-M-Arnold A: The abundance of fungi, bacteria and denitrification genes during insect outbreaks in Scots pine forests. Forests (2018) 9/497 (18 pages). OPEN ACCESS
Abbo AS, Idris MO, Elballa MA, Hammad AM, Siddig MARE, Karlovsky P: Genetic variability and host specialization in Alternaria alternata colonizing Solanaceous crops in Sudan. J Plant Prot Res (2018) 58: 246-256.OPEN ACCESS
Guo Z, Pfohl K, Karlovsky P, Dehne H-W, Altincicek B: Dissemination of Fusarium proliferatum by mealworm beetle Tenebrio molitor. PLOS ONE (2018) 13/e0204602 (17 pages).OPEN ACCESS
Ortiz SC, Trienens M, Pfohl K, Karlovsky P, Holighaus G, Rohlfs M: Phenotypic responses to microbial volatiles render a mold fungus more susceptible to insect damage. Ecology and Evolution (2018) 8: 4328-4339. OPEN ACCESS
Sisic A, Bacanovic-Sisic J, Al-Hatmi AMS, Karlovsky P, Ahmed SA, Maier W, de Hoog GS, Finckh MR. The 'forma specialis' issue in Fusarium: A case study in Fusarium solani f. sp. pisi. Scientific Reports (2018) 8/1252 (17 pages).OPEN ACCESS
Palazzini J, Roncallo P, Cantoro R, Chiotta M, Yerkovich N, Palacios S, Echenique V, Torres A, Ramírez M, Karlovsky P, Chulze S. Biocontrol of Fusarium graminearum sensu stricto, reduction of deoxynivalenol accumulation and phytohormone induction by two selected antagonists. Toxins (2018) 10/88 (12 pages).OPEN ACCESS
Sisic A, Bacanovic-Sisic J, Karlovsky P, Wittwer R, Walder F, Campiglia E, Radicetti E, Friberg H, Baresel JP, Finckh MR: Roots of symptom-free leguminous cover crop and living mulch species harbor diverse Fusarium communities that show highly variable aggressiveness on pea (Pisum sativum). PLOS ONE (2018) 10/e0191969 (19 pages).OPEN ACCESS
Gamliel A, Dehne HW, Karlovsky P, Fletcher J: Detection of mycotoxins in food: applications of rapid and reliable tools in a biosecurity context. In: Practical Tools for Plant and Food Biosecurity (2017) 8/143-162.

Hassan YI, He JW, Perilla N, Tang K, Karlovsky P, Zhou T: Enzymatic epimerization of deoxynivalenol by Devosia mutans proceeds through the formation of 3-keto-DON intermediate. Scif. Reports (2017) 7: /6929. (11 pages) OPEN ACCESS.
Knüfer J, Lopisso DT, Koopmann B, Karlovsky B, von Tiedemann A: Assessment of latent infection with Verticillium longisporum in field-grown oilseed rape by qPCR. Eur J Plant Path (2017) 147: 819-831

ten Bosch L, Pfohl K, Avramidis G, Wieneke S, Viöl W, Karlovsky P: Plasma-based degradation of mycotoxins produced by Fusarium, Asper­gillus and Alternaria. Toxins (2017) 9: 97 (12 pages) OPEN ACCESS
Sherif M, Becker EM, Herrfurth C, Feussner I, Karlovsky P, Splivallo R: Volatiles emitted from maize ears simultaneously infected with two Fusarium species mirror the most competitive fungal pathogen. Frontiers Plant Sci (2016) 7/1460 (11 pages) OPEN ACCESS

Karlovsky P, Suman M, Berthiller F, De Meester J, Eisenbrand G, Perrin I, Oswald IP, Speijers G, Chiodini A, Recker T, Dussort P: Impact of food processing and detoxification treatments on mycotoxin contamination. Mycotoxin Research (2016) 32: 179-205. OPEN ACCESS.
Guo Z, Pfohl K, Karlovsky P, Dehne HW, Altincicek B: Fumonisin B1 and beauvericin accumulation in wheat kernels after seed-borne infection with Fusarium proliferatum. Agric Food Sci (2016) 25: 138-145. OPEN ACCESS

Chatterjee S, Kuang Y, Splivallo R, Chatterjee P, Karlovsky P: Interactions among filamentous fungi Aspergillus niger, Fusarium verticillioides and Clonostachys rosea: fungal biomass, diversity of secreted metabolites and fumonisin production. BMC Microbiology (2016) 16/83 (13 pages).OPEN ACCESS